Packaging Design & Prototyping. Studio Photography.
Since the shoe box was intended as a gift for the CEO of Google, we started by gathering some insights from his background to help it feel more personalized. He's a huge fan of Barcelona FC, so we sourced a Leo Messi signed Tango cleat. In his early college studies he majored in Metallurgic Engineering which is an insight that later informed the materialization of the box.
I engineered two box prototypes. The first was a reverse-engineered 2017 Predator box, which housed an internal ramp that upon opening would jut the shoe towards you for display. The second was a two-piece box built to embody the adidas' brand aesthetic, communicating a minimal design with high functionality. The interior plastic was to be sourced from recycled ocean waste via our Parley collaboration. And the two parts nested together making a display ramp that resembles the shape of the adidas "mountain" logo. Something simple that also served a purpose across many touchpoints.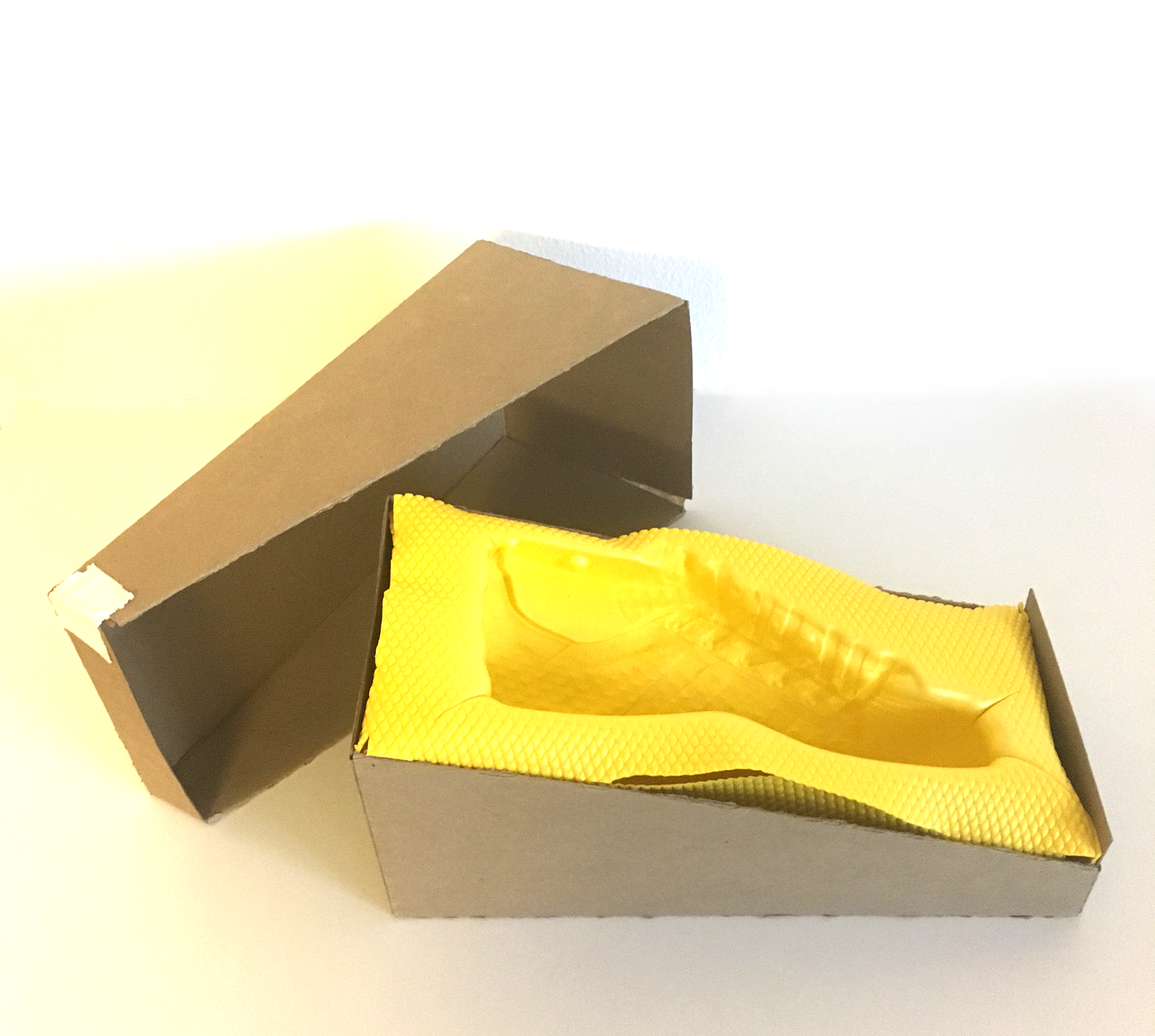 The final prototype consisted of a telescoping design. The outer shell served as a storage container for the clear display case. This case could be removed and displayed vertically or horizontally, with or without the housing.
Once we narrowed down the form, we worked on creating the right look and feel for it. We explored various graphic directions from sleek vinyl applications to more expressive and tactile wraps. We played around with Barcelona FC colors, different ways to apply texture to the box, and ultimately tried to best brainstorm ways we could layer in some eye-catching personal touches. We ended up referring back to our initial research and an insight about Sundar's metallurgical background to inform our decision to engrave the aluminum-alloy lids as a nod to that.
Below is the finished piece. We landed on a very clean aesthetic. Unfortunately we did not get to dunk the box into a tub of paint, but overall the box has a look that feels professional and elevated. It's not overdone or based on a fleeting design trend, but rather serves its purpose as a timeless keepsake that Sundar can save and show forever. I was tasked with the final studio photography for record-keeping purposes since we would no longer have the box.
Great Design Solves a Problem
We explored incredibly wide in box design and graphic application--coming to a solution that best addressed the initial objective. The final design is a testament to trusting the process. And while there was a lot of work put into the prototyping phase, the end result was what was needed. Below is the hand-off to Sundar. He looks pretty happy to me, so I am going to consider this project a success!