Experiential & Environmental Design. Digital. Social.
Promoting Donovan first meant promoting his message of perseverance:

D

etermination

O

ver

N

egativity, or D.O.N. for short. It's what got him into the NBA. And it's what makes him the perfect person to inspire fans. Since his nickname is "Spida," it only made sense that his heroic persona parallels the Amazing Spider-Man.
To spread his message, Donovan went from New York to Vegas, donating gear and resources to local fans, coaches and community members that had used Determination to Overcome Negativity in their own lives.
Helping craft the tour's visual appearance across environments, I applied the graphic language to all available surfaces and assets, ensuring an immersive experience from event to event.
As the lead-up tour wound down, we brought our attention to the culminating product launch held in San Diego. Here, we designed a multi-faceted booth experience that could cater to both sneakerheads and comic book fans alike.
We engaged both passers-by and hands-on fans through a strategic layout that accounted for almost every traffic flow scenario imaginable. For traffic that flowed into the booth, we funneled them towards our photo experience. While fans waited their turn, they could easily interact with the levitating product displays on the inner wall.
For passers-by, we crafted impossible-to-miss, bespoke, shadowboxes that illuminated Donovan's crazy new shoes. Each shadowbox highlighted a different colorway and was wrapped internally with graphic storytelling imagery related to each model. The shoes were framed in neon and positioned on the outer wall, showcasing their amazing silhouettes to all whom passed by.
With all of the hype generated by our efforts, we achieved record-setting sell-through for Don's Symbiote Issue #1 Pro Model. It sold out in minutes!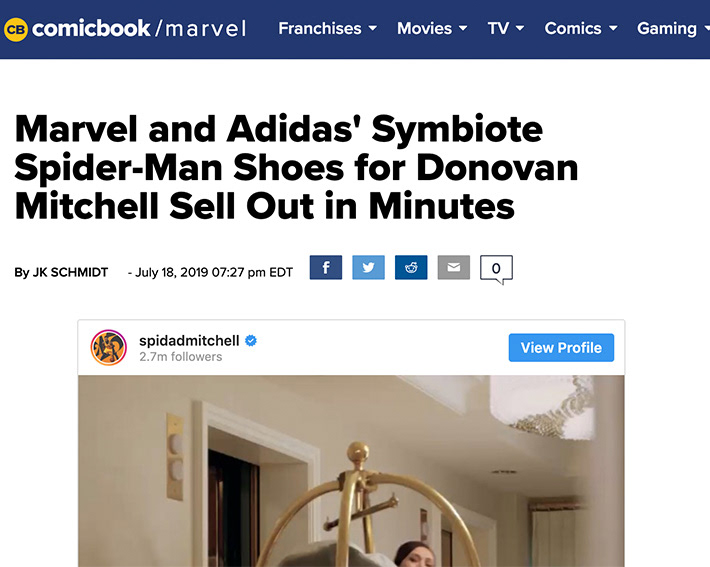 And on top of generating substantial buzz around the footwear, we also engineered a gripping photo moment where event attendees could become superheros themselves-acting out their own Spider-Man style basketball hoop hang!
Here's how it worked:

Using an upside-down basketball hoop and cityscape backdrop, we flipped our photos in post-production to create a gravity-bending illusion.
Here's what happened:

Fans loved it!
In summation, our heroic tale was a huge win for both the Adidas and Marvel brands. We engaged with over 165,000 fans and captured more than 3,400+ photo moments at the Comic Con event alone.
At the end of the day, we achieved top-tier levels of ear-to-ear smiles. Making the team at Match MG as well as myself feel a bit like superheroes, too!